Tap Guide
---
Whether your bathroom is a private spa-like oasis or a functional room used by everyone in the family, it is important to choose the proper basin tap to complement your style. Modern-day taps can feature new eco-friendly technology that limits water use and can be made to look centuries old. No matter what your style or needs, there is a bathroom tap out there for you.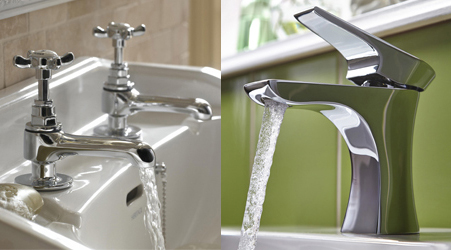 Basin Mixer Taps
Basin Mixer Taps are most commonly associated with contemporary style bathrooms. A basin mixer tap combines hot and cold water in the body of the tap and allows you to swivel or turn to the desired temperature. You will only need one hole in your basin or surface. These types of taps are extremely popular and you'll find a wide range of stylish designs available.
Bath Mixer Taps
Bath mixer taps are a simple yet effective way to update your bathroom decor. They allow both and hot and cold water to mix which allows you to be more accurate with the temperature of your bath. Mixer taps can also double-up as a great space saver, particularly if you have a shower or bath enclosure. As the name suggests, mixer taps mix both hot and cold water, which is a great preventative measure against scalding and keeps the whole family safe.
Cloakroom Taps
If you're working with a small space, you'll want functional taps that won't take up too much room. A cloakroom tap is a refined tap design that is ideal for smaller bathrooms. You can find cloakroom taps in waterfall designs which allows water to cascade from your tap. They are also available as mixer taps, where the hot and cold water exists through a shared, single spout.
Wall-Mounted Taps
Wall-Mounted taps will deliver a minimalist feel in terms of design as it leaves the space around your basin looking less cluttered. As no pipework is visible, it's perfect for a contemporary interior. These type of taps require a little more DIY know-how, to install (we always recommend a professional!) but the result can instantly transform your bathroom by turning your taps into a focal point.
Waterfall Taps
If you're looking to turn your bathroom into a luxurious personal spa, then a waterfall tap is just what you're looking for. The open spout tap creates a cascading water effect which fits beautifully into contemporary bathroom designs.
Traditional Taps
Perfect for a traditional design, they offer a timeless appeal and are a wonderful addition to a vintage-inspired bathroom. The most notable features of traditional bathroom taps, particularly basin taps, is that they often come as two separate pillars with each tap running either hot or cold water.
Freestanding Taps
Sleek, contemporary and luxurious, freestanding taps can be a stunning accompaniment to any bathroom scheme. As the name suggests, the tap stands separate to the bath and provides a decadent addition to your room. Create the ultimate boutique hotel look with our range of freestanding taps.