Planning Your Bathroom
---
Start by measuring your bathroom and make a note of where the existing waste pipes, boiler and electrical wiring are. Relocating any of these will add a significant chunk to your costs. On graph paper, make a to-scale drawing of your bathroom, noting down the location of the windows, door and fittings. Take it with you when you go to the shops. You'll also need to think about ventilation: if there isn't a window, it's advisable to install an extractor fan, or condensation will quickly cause mould and damp problems. Regardless of how much you've got to spend, set a budget before starting the project and do your best to stick to it. It's also worth adding in a 10% contingency - no matter how much you plan, there can be unforeseen costs.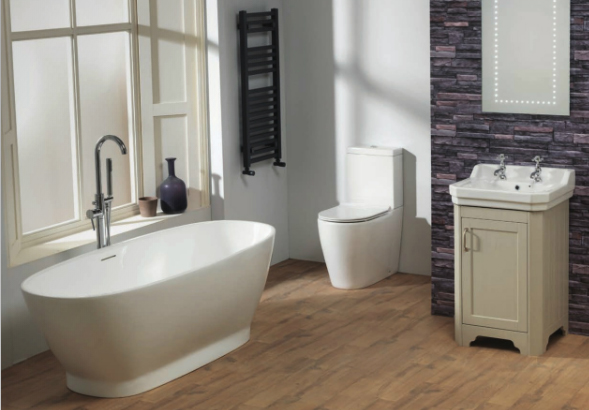 Choosing a bath
Nothing makes more of a bathroom design statement than a freestanding bath. These come in a variety of designs, from grand, old-fashioned and claw-footed tubs complete with roll-tops to minimalist, modern styles Fitted baths tend to be more practical if you have less space, Whichever type of bath you're buying, always get in and try it out before making your decision. You may feel silly but you'd feel sillier if you spent hundreds of pounds on a bath you're uncomfortable in.
Choosing a shower
If having access to a bath is unimportant to you, you can sometimes make better use of the space by having a large shower unit and no bath. However, before making the decision not to have a bath, think about whether it could affect the resale value of your home.
Choosing a basin
Bathroom basins come in a vast array of shapes, sizes and designs. Most basins either sit within a cupboard or storage unit or are freestanding. However, there's a growing trend for vessel sinks, where the sink looks like a bowl sitting on top of the counter. Other practicalities to consider are the sink's height and the material it's made from - you should ideally choose something hard-wearing that will be easy to clean and particularly if you live in a hard water area, won't show water marks. As always, make sure you think practically about what will fit into your bathroom, and remember that the taps you choose will have as big an effect on the look as the sink itself.
Choosing a toilet
It may not be the most glamorous aspect of designing your bathroom but, over the years, your toilet will get a lot of use, so it's important to buy the right one. A variety of shapes and styles of toilet exist: wall-hung, back-to-wall, close-coupled and corner toilets are all commonplace nowadays, and you can also buy soft-close loo seats that won't slam down when you close the lid. Consider the flushing mechanism - toilets can come with a dual flush, power flush or gravity flush to name but a few, and this will affect your water usage, as well as how powerful and effective the flush is.