Shower Enclosures Guide
---
When you're looking for a shower enclosure, the easiest decision to make is usually the shape of the shower. Unless you're doing a complete renovation, it's best to look at what types and shapes of enclosures will fit the existing shower layout in your bathroom. After deciding between the enclosure shapes that will fit your space, then take a look at shower door styles. Ultimately, it all comes down to your personal preference for shower space, durability, and overall aesthetic. We've broken down the general door styles and shower enclosure shapes below to help you start this home improvement project.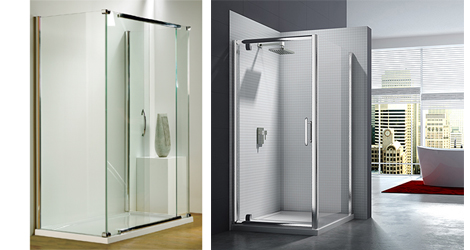 Hinged Shower Doors
Hinged shower doors allow the widest opening for any shower door option, allowing for maximum accessibility in a complete enclosure. Each door has a number of secure hinges anchored to the side of the door panel, allowing it to open outwards.
Sliding Shower Doors
Sliding door shower enclosures come in a variety of price ranges. Great for small spaces, a sliding door enclosure takes up the least amount of real estate in your bathroom. Look for door and full-length panel seals to make sure the shower is watertight where the door slides back.
Pivot Shower Doors
Pivot doors are another design of shower door, ideal for the easiest of access. Each door has two pivot points located at the top and bottom of the shower door that allow it to swing outwards. This type of door allows a slightly smaller opening than a hinged door but a more secure and sturdy fitting for the door itself.
Bi-Fold Shower Doors
The Bi-Fold door is perfect if you do not want the shower door opening into the shower room or it is not the correct size to do so, making it ideal for elongated or rectangular showers. The doors themselves open inwards and fold into each other ensuring the most compact of shower units. The bi-fold door can be used individually or in conjunction with inline panels for a larger shower enclosure.
Quadrant Shower Enclosures
Quadrant shower enclosures offer elegant curvature and great design without the expense of precious space. The doors to a quadrant enclosure usually slide from each side into the surround to give the largest access.
Walk-In Shower Enclosures
Ideal for alcove and open wet room areas, the walk-in shower enclosure offers a contemporary and stylish shower solution. Consisting of multiple angled panels without the need of a shower door.
Bath Screens
If you have a shower bath in your bathroom, a bath screen is the perfect choice for you. Available as a single fixed panel, hinged panel or a more discreet folding screen, a bath screen allows for absolute practicality without the expense of great design.